Overview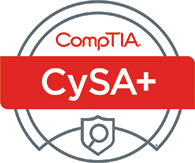 Your 4-day accelerated Cybersecurity Analyst (CySA+) certification course teaches you the knowledge and skills required to perform a host of tasks related to securing and protecting applications and systems within an organisation.
Our experienced instructors will teach you, through our unique Lecture | Lab | Review approach, to configure threat detection tools, perform data analysis and interpret the results to identify vulnerabilities, threats and risks to an organisation.
Cyber security analytics vastly improves your threat visibility by focusing on network behaviour, including an organisation's interior network. These threats are better detected through analytics.
On this accelerated CySA+ course you will focus on the following four cyber security domains:
Threat Management
Vulnerability Management
Cyber Incident Response
Security Architecture and Tool Sets
This course is aimed at cyber security professionals with at least two to three years of on-the-job experience.
The training incorporates hands-on practical work in the form of virtual labs and software tools. This approach will accelerate your learning and will help retain your new found knowledge.
The CompTIA Cybersecurity Analyst (CySA+) exam is on site and includes a performance-based assessment.
Her er 4 gode grunde til at du skal tage CySA+ hos Firebrand:
Du bliver CySA+ uddannet og certificeret hurtigere. Du lærer mere på vores 6 dages accelererede kursus og får mindst 12 timers daglig uddannelse i et distraktionsfrit miljø.
Dit CySA+ kursus er alt-inklusiv. Du får en gennemskuelig pris, der dækker alle kursusmaterialer, eksamen, overnatning og forplejning. Du skal ikke tænke på andet end at lære.
Bestå CySA+ den første gang eller kom tilbage, gratis. Din instruktør er ekspert, og træner dig ud fra accelererede metoder, så du lærer hurtigere og har de bedste muligheder for at bestå eksamen første gang. Men hvis du mod forventning ikke består, er du dækket af vores Certificeringsgaranti.
Tag CySA+ hos en prisvindende uddannelsesleverandør. Vi har vundet adskillige udmærkelser heriblandt Microsofts "Årets Learning Partner" hele fem gange og to Børsen Gazelle priser. Firebrand er din hurtigste vej til uddannelse, og vi har sparet 70,000 deltagere for mere end en million spildte timer siden 2001.