Overview
On this accelerated Check Point Certified Troubleshooting Administrator course, you'll learn the concepts and skills necessary to troubleshoot when managing the Check Point Security Management architecture and Security Gateways.
In just 2 days, you'll learn to use Check Point resources for support and gain an understanding of identity awareness, as well as:
How to perform packet captures using tcmdump and FW Monitor command tools
The basic process of kernel debugging, and how debug commands are structured
How to use various Linux commands for troubleshooting system issues
At the end of this course, you'll sit Check Point (156-580) exam, and achieve your Check Point Certified Troubleshooting Administrator certification. Firebrand's Lecture | Lab | Review methodology means you'll get access to courseware, learn from certified instructors, and train in a distraction-free environment.
Audience
This course is ideal if you are a security administrator, or Check Point resellers who need to manage and monitor issues that may occur within their Security Management environment
Check Point Course Progression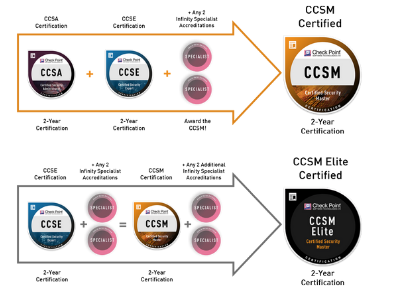 The Check Point Certified Security Administrator (CCSA) certification is the first rung on the Check Point certification ladder, once achieved, you are then eligible to take the Check Point Certified Security Expert (CCSE).
Once you are a CCSE Certification holder you have the opportunity to take any 2 Infinity Specialist Accreditations and become a Checkpoint Certified Security Master (CCSM)!
Take 2 more Infinity Specialist Accreditations after you have your CCSM Certification and you will become a Checkpoint Certified Security Master Elite (CCSM Elite), showcasing true technical mastery.
Her er 4 gode grunde til at du skal tage hos Firebrand:
Du bliver uddannet og certificeret hurtigere. Du lærer mere på vores 6 dages accelererede kursus og får mindst 12 timers daglig uddannelse i et distraktionsfrit miljø.
Dit kursus er alt-inklusiv. Du får en gennemskuelig pris, der dækker alle kursusmaterialer, eksamen, overnatning og forplejning. Du skal ikke tænke på andet end at lære.
Bestå den første gang eller kom tilbage, gratis. Din instruktør er ekspert, og træner dig ud fra accelererede metoder, så du lærer hurtigere og har de bedste muligheder for at bestå eksamen første gang. Men hvis du mod forventning ikke består, er du dækket af vores Certificeringsgaranti.
Tag hos en prisvindende uddannelsesleverandør. Vi har vundet adskillige udmærkelser heriblandt Microsofts "Årets Learning Partner" hele fem gange og to Børsen Gazelle priser. Firebrand er din hurtigste vej til uddannelse, og vi har sparet 70,000 deltagere for mere end en million spildte timer siden 2001.