Overview


As a Certified Cyber Forensics Professional you'll understand and show competence in established disciplines as well as new challenges, such as mobile forensics, cloud forensics and anti-forensics.
The CCFP certification demonstrates your expertise in forensic techniques and procedures. With your knowledge, you'll be able to present complete and reliable digital evidence admissible to a court of law.
You'll learn about the six domains of CCFP:
Legal and Ethical Principles
Investigations
Forensic Science
Digital Forensics
Application Forensics
Hybrid and Emerging Technologies
The certification also indicates your ability to apply forensics to e-discovery, malware analysis and incident response. On the CCFP course you'll get hands-on experience and prepare a report on evidence analysis at the end.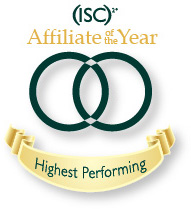 Highest Performing Affiliate of the Year
Firebrand Training has been named as "Highest Performing Affiliate of the Year – EMEA" by (ISC)2. The major security association helps companies recognise organisations and individuals who are knowledgeable in security through all (ISC)2 certifications.
Firebrand Training is an Authorized Provider of (ISC)2 certifications. W. Hord Tipton, Executive Director of (ISC)2, stated: "This award represents Firebrand as the top performer for (ISC)2...for the EMEA region."
Four reasons why you should sit your CCFP course with Firebrand Training
You'll be CCFP trained and certified faster. Learn more on this 5-day accelerated course. You'll get at least 12 hours a day of quality learning time in a distraction-free environment
Your CCFP course is all-inclusive. One simple price covers all course materials, exams, accommodation and meals – so you can focus on learning
Pass CCFP first time or train again for free. Your expert instructor will deliver our unique accelerated learning methods, allowing you to learn faster and be in the best possible position to pass first time. In the unlikely event that you don't, it's covered by your Certification Guarantee
Study CCFP with an award-winning training provider. We've won the Learning and Performance Institute's "Training Company of the Year" three times. Firebrand is your fastest way to learn, with 134.561 students saving more than one million hours since 2001