Microsoft Role-based Certification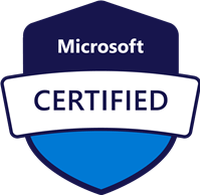 Microsoft's certification portfolio continues to evolve - keep up-to-date by choosing accelerated Role-Based certifications.
Through in-depth job task analysis, these role-based certifications can build skills specific to your role or improve your chances of getting the career you want.
Get the skills you need at twice the speed whether you're running Office 365, Azure, Dynamics 365, Microsoft 365 or AI.
Learn from Microsoft Certified Trainers (MCTs) using official courseware and sit your exams during these all-inclusive accelerated courses. Return to the office certified fast and become an expert in your business with Microsoft role-based certifications.