Overview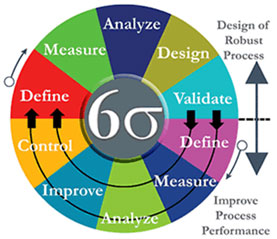 Aimed at the advanced practitioner, your accelerated Lean Six Sigma Black Belt certification will teach you to generate business improvements in areas such as: customer satisfaction, service delivery, cost control, process performance, & new product introduction.
During the 5 day course you will be introduced to both Lean and Six Sigma methodologies, meaning that activities focused around the speed and quality of business processes are addressed.
Your accelerated course meets the ISO 18404 standard applicable to all PEEC programs. Delivered in line with the International Standards for Lean Six Sigma, as described in the ISO 13053-1 and ISO 13053-2 standard, you will attain an internationally recognised certification as a Lean Six Sigma Black Belt.
Traditional Lean Six Sigma Black Belt training lasts 10 days. This normally includes a month between each module, meaning that it can take up to two months to complete. This is compared to five days at Firebrand. Plus, our course contains case studies and exercises - it is not just theory.
On completion of this course you will be able to:
Understand Six Sigma and Lean and have hands-on application of the Green Belt tool-kit applied to real-life problems.
Establish meaningful business metrics that align process performance with financial performance.
Have a detailed view of Cycle Time Reduction, Process Variation and Risk Management.
Prepare an actionable plan for identifying, scoping and chartering process improvement projects and selecting the right people to execute those projects.
Lead teams in managing and preventing defects in products, processes or services.
Redesigning existing products, processes or services to achieve Six Sigma levels of performance over the life cycle.
Understand how an enhanced value stream can illuminate areas of opportunity through the application of Lean principles to reduce cycle time.
Apply a practical understanding of how to lead strategic change, manage a team and transfer Lean Six Sigma knowledge to develop robust breakthrough products, services and processes that perform flawlessly on launch.
Prepare an actionable plan for supporting your organisation, and tools to build continuous improvement capability that deliver substantial and meaningful business results.
What is a Black Belt?
As a Six Sigma Black Belt practitioner you will:
Be responsible for leading, executing, and completing business improvement projects
Provide expert knowledge and thought leadership around Six Sigma & LEAN with particular emphasis on turning operational process improvements into tangible customer & financial benefits
Teach team members the Six Sigma & LEAN methodology and tools
Assist in identifying project opportunities and refining project details and scope
Report progress to the project champions and the process owners and manage stakeholder expectations and involvement
Transfer knowledge and coach other Green Belts and the organisation.
This Lean Six Sigma Black Belt course is designed for all business professionals from a wide variety of manufacturing or service / transactional environments. Ideally, you will be tasked with delivering major performance or efficiency transformation for a business, typically working as a Change Leader within the business.
Four reasons why you should sit your course with Firebrand Training
You'll be trained and certified faster. Learn more on this 5-day accelerated course. You'll get at least 12 hours a day of quality learning time in a distraction-free environment
Your course is all-inclusive. One simple price covers all course materials, exams, accommodation and meals – so you can focus on learning
Pass first time or train again for free. Your expert instructor will deliver our unique accelerated learning methods, allowing you to learn faster and be in the best possible position to pass first time. In the unlikely event that you don't, it's covered by your Certification Guarantee
Study with an award-winning training provider. We've won the Learning and Performance Institute's "Training Company of the Year" three times. Firebrand is your fastest way to learn, with 125505 students saving more than one million hours since 2001