ISO Certification

Consistency and quality must be maintained across industries and nations; international standards like ISO provide this balance. By gaining an ISO certification, businesses can prove that their management systems, services or documentation procedures are standardised to a high level of quality. These certifications are often mandatory and often required in order for businesses to sell within some industries.
ISO (International Organisation for Standardisation) develops these standards with the aim of building quality, safety and efficiency into products and services – wherever in the world they are found.
Achieve your ISO certification, fast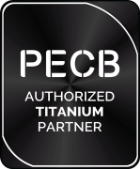 Skilled professionals are needed by businesses to lead ISO implementation projects, build compliance and prepare for an audit. And with a large range of certifications to choose from, you can build and certify your skills across a variety of standards.
Firebrand's accelerated certification courses focus on information and cyber security, business continuity, risk and service management.
Every accelerated course is delivered through PECB. As a Titanium Partner, when you train with Firebrand, you'll get access to the latest curriculum and sit your official certification exam during your course.
All of the certifications from PECB that Firebrand offer are accredited under the ISO 17024 standard by the International Accreditation Service.
The ISO 27001 Lead Auditor and Lead Implementer products are also accredited by UKAS under the ISO 17024 standard.
Frequently Asked Questions
Q: What is ISO 20000?
A: The first global standard for an information technology service management system. This standard was developed to support frameworks such as the IT Infrastructure Library (ITIL) or the Microsoft's Operations Framework.
Q: What is ISO 22301?
A: A management systems standard that provides a framework for your organisation to protect against and successfully recover from disruptive events and incidents.
Q: What is ISO 27001?
A: A standard designed to provide a model for creating, implementing, operating, monitoring and improving an information security management system (ISMS). An ISMS is framework of practices, policies and procedures, which includes all controls involved in the information risk management of an organisation.
Q: What is ISO 9001?
A: A standard that sets out the requirements for all areas of a quality management system. It is universal and can be applied to any product or service, made via any process anywhere in the world.