Overview
Learn how to code and develop secure applications with greater stability and posing minimal security risks to the consumer. Get your EC-Council Certified Secure Programmer certification in just five days. Depending on whether you're used to working with .NET or Java, you'll be able to tailor your course based on the environment you work in. Choose either the .NET or Java labs and exam - and get the accreditation you want.
As an ECSP you'll improve the overall quality of your products and applications by identifying security flaws and implementing security countermeasures throughout the software development life cycle. This course is based on the OWASP (Open Web Application Security Project) Top Ten Threats, a guide to the most common categories of application security problems.
What you'll learn
This course builds on your development skills in C#, C++, Java, PHP, ASP, .NET and SQL. You'll learn about key secure programming topics, including:
Framework Security
.NET Authentication and Authorisation
.NET & Java Cryptography
Secure File Handling
If you're designing and building Windows/Web based applications with .NET/Java, the ECSP certification is for you. You'll learn the latest techniques and strategies in secure programming through classroom discussions and a series of practical labs.
9x Accredited Training Centre of the Year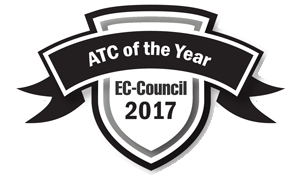 Firebrand Training has again won the EC-Council Accredited Training Centre of the Year Award, from a Training Partner network that has more than 700 training centres across 107 countries. This extends a record-breaking run of successive awards to nine years.
Jay Bavisi, President of EC-Council said: "The annual EC-Council Awards highlights the commitment and achievements of our global partners and trainers that have contributed to the information security community."
Four reasons why you should sit your ECSP course with Firebrand Training
You'll be ECSP trained and certified faster. Learn more on this 5-day accelerated course. You'll get at least 12 hours a day of quality learning time in a distraction-free environment
Your ECSP course is all-inclusive. One simple price covers all course materials, exams, accommodation and meals – so you can focus on learning
Pass ECSP first time or train again for free. Your expert instructor will deliver our unique accelerated learning methods, allowing you to learn faster and be in the best possible position to pass first time. In the unlikely event that you don't, it's covered by your Certification Guarantee
Study ECSP with an award-winning training provider. We've won the Learning and Performance Institute's "Training Company of the Year" three times. Firebrand is your fastest way to learn, with 134561 students saving more than one million hours since 2001