Overview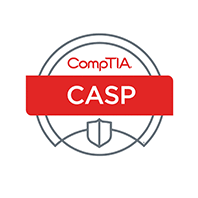 On this accelerated 3-day Advanced Security Practitioner (CASP+) course, you'll get the advanced skills you need to design and create secure solutions across complex business environments - 40% faster than traditional training.
Your expert instructor will provide you with technical knowledge and skills required to conceptualise, engineer, integrate and implement secure solutions across complex environments to support a resilient enterprise.
On your accelerated CASP+ Course you'll also learn:
Enterprise Security, including operations and architecture concepts, techniques, and requirements
Risk analysis and cyber defence anticipation
Mobile and small form factor devices' security
Software vulnerability
How to integrate cloud and virtualisation technologies into a secure enterprise architecture
Cryptographic techniques, such as Blockchain- Cryptocurrency and Mobile device encryption
You'll be immersed in the curriculum with our unique Lecture | Lab | Review technique - helping you develop and retain knowledge faster and develop skills for the real world with hands-on, practical labs.
Firebrand Training is an Authorised Partner of CompTIA. This means that you are guaranteed the highest level of instructor and course material, all of which is officially approved by CompTIA.
CASP+ is compliant with ISO 17024 standards and approved by the US DoD to meet directive 8140/8570.01-M requirements.
Four reasons why you should sit your CASP+ course with Firebrand Training
You'll be CASP+ trained and certified faster. Learn more on this 3-day accelerated course. You'll get at least 12 hours a day of quality learning time in a distraction-free environment
Your CASP+ course is all-inclusive. One simple price covers all course materials, exams, accommodation and meals – so you can focus on learning
Pass CASP+ first time or train again for free. Your expert instructor will deliver our unique accelerated learning methods, allowing you to learn faster and be in the best possible position to pass first time. In the unlikely event that you don't, it's covered by your Certification Guarantee
Study CASP+ with an award-winning training provider. We've won the Learning and Performance Institute's "Training Company of the Year" three times. Firebrand is your fastest way to learn, with 124229 students saving more than one million hours since 2001