Overview


Get the knowledge you need to secure your cloud infrastructure in just 6 days. On this accelerated CCSP course, you'll get the cloud security skills you need to manage cloud environments and purchased cloud services.
You'll even sit your official (ISC)2 CCSP exam during this course and walk away with your certification in under one week. This exam is covered by your Certification Guarantee: pass first time or train again free.
Outdated approaches to the cloud could be opening your organisation to dangerous cyber criminals. Businesses around the world need experienced professionals with advanced skills in cloud security – prove your knowledge with the industry's top cloud security certification.
As well as learning how to keep your sensitive cloud data secure, you'll study the six domains of the CCSP (Certified Cloud Security Professional) and prove knowledge across:
Cloud architecture, and design for data security
Security for cloud-based applications
Security operations in the cloud
Legal, risk, and compliance
Developed by leading information security organisations, the Cloud Security Alliance (CSA) and (ISC)2, this advanced certification proves your cloud security expertise at a global level.
This certification is ideal for IT and information security leaders that work to apply best practices to cloud security architecture, design and operations. This includes roles like enterprise architects, systems engineers, security managers and security engineers.
Residential or Online CCSP certification
Firebrand offers both a classroom-based and CCSP online course, including everything you need to get certified in record time:
Official courseware, labs and practice exams
Expert training from authorised (ISC)2 instructors
CISSP certification exam
Accommodation, meals and snacks (for residential courses)
Both are delivered through our tried and tested Lecture | Lab | Review methodology. In this day and age, you get to choose the best one for your needs, and get your certification faster than anywhere else.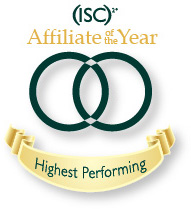 (ISC)2 Highest Performing Affiliate of the Year
Firebrand Training has been named as a "Highest Performing Affiliate of the Year – EMEA" by (ISC)2. Upon announcing the award, W. Hord Tipton, Executive Director of (ISC)2, stated: "This award represents Firebrand as the top performer for (ISC)2...for the EMEA region."
Four reasons why you should sit your course with Firebrand Training
You'll be trained and certified faster. Learn more on this 6-day accelerated course. You'll get at least 12 hours a day of quality learning time in a distraction-free environment
Your course is all-inclusive. One simple price covers all course materials, exams, accommodation and meals – so you can focus on learning
Pass first time or train again for free. Your expert instructor will deliver our unique accelerated learning methods, allowing you to learn faster and be in the best possible position to pass first time. In the unlikely event that you don't, it's covered by your Certification Guarantee
Study with an award-winning training provider. We've won the Learning and Performance Institute's "Training Company of the Year" three times. Firebrand is your fastest way to learn, with 134561 students saving more than one million hours since 2001