Overview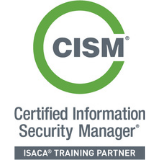 This accelerated CISM certification course is designed to get you a Certified Information Security Manager qualification much faster than traditional courses. Our CISM training teaches you how to manage, design, oversee and assess enterprise information security in just 4 days.
The CISM certification proves your knowledge of information security programmes and their role within business goals and objectives. Through Firebrand's unique Lecture | Lab | Review method, you'll go through the four ISACA CISM domains:
Information Security Governance
Information Risk Management and Compliance
Information Security Program Development and Management
Information Security Incident Management
ISACA Accredited Training Organisation (ATO)
Firebrand is an ISACA Accredited Training Organisation (ATO). This means you'll get access to official ISACA courseware and will sit your CISM exam during your accelerated course.
Firebrand is a premier ISACA partner for EMEA and the US. No other partner in these regions trains more students.
Residential or Online CISM course
Firebrand offers both a classroom-based and CISM online course, including everything you need to get certified in record time:
Official courseware, labs and practice exams
CISM certification exam
Accommodation, meals and snacks (for residential courses)
In this day and age, you get to choose the best one for your needs, and get your certification faster than anywhere else.
Audience
If you're a network achitect, information security manager, or have information security management responsibilities, this accelerated CISM course is ideal for you.
Seven reasons why you should take your CISM with Firebrand Training
You'll be CISM certified in just 4 days. With us, you'll be CISM trained in record time
Our CISM course is all-inclusive. A one-off fee covers all course materials, accommodation and meals
Pass CISM first time or train again for free. This is our guarantee. We're sure you'll pass your CISM course first time. But if you don't, come back within a year, and only pay for accommodation and exams. Everything else is free
You'll learn more CISM. A day with a traditional training provider generally runs from 9am – 5pm, with a nice long break for lunch. With Firebrand Training you'll get up to 12 hours/day quality learning time, with your instructor
You'll learn CISM faster. Chances are, you'll have a different learning style to those around you. We combine visual, auditory and tactile styles to deliver the material in a way that ensures you will learn faster and more easily
You'll be studying CISM with the best. We have won the Learning and Performance Institute (LPI) "Training Company of the Year" a record three times. As well as winning many more awards, we've trained and certified 134561 professionals, and we're partners with all of the big names in the business
You'll do more than study CISM courseware. We use labs, case studies and practice tests to make sure you can apply your new knowledge to the work environment. Our instructors use demonstrations and real-world experience to keep the day interesting and engaging