Overview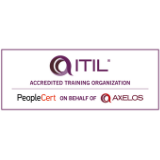 Achieve your ITIL V4 Foundation certification on Firebrand Training's accelerated 2-day course. Develop the skills to successfully transform your organisation and take advantage of information technology in the modern service economy.
ITIL (IT Infrastructure Library ®) is the only consistent and comprehensive documentation of best practice for IT Service Management. It provides a framework to support organisations in improving their tech-enabled products. Learn to utilise and adapt to different aspects of digitisation in the business world with AXELOS' ITIL 4 Foundation certification.
In 2 days, you'll learn how to:
Key concepts in the ITIL 4 framework
The ITIL service value system
The four dimensions of service management
ITSM
The seven guiding principles of ITIL 4
This accelerated ITIL Foundation course is delivered by ITIL consultants - experts who work with ITIL on a daily basis. Their expertise will be at your disposal over the duration of your course as they immerse you in the curriculum. With the use of our Lecture | Lab | Review technique, Firebrand offer and support your various learning needs, guaranteeing you absorb information 40% faster and return certified.
The ITIL 4 Foundation certification is a prerequisite to gaining the ITIL Practitioner certification.
Residential and Online ITIL foundation training
With Firebrand you'll learn from expert instructors to enhance your understanding of the course material. We offer both a classroom-based and ITIL foundation online training course, including everything you need to get certified in record time:
Official courseware, labs and practice exams
ITIL 4 Foundation certification exam
Accommodation, meals and snacks (for residential courses)
Build your own course
Firebrand have accelerated more than 10 ITIL training courses, including Service Capability, Service Lifecycle and Managing Across the Lifecycle. Build your own ITIL course, based on your team's specific requirements. Contact us on 080 80 800 888 to discuss building your own ITIL course.
Your ITIL foundation certificate is worth two ITIL credits towards the ITIL® Expert qualification.
ITIL® is a registered trade mark of AXELOS Limited, used under permission of AXELOS Limited. The Swirl logo™ is a trade mark of AXELOS Limited, used under permission of AXELOS Limited. All rights reserved.
ITIL® and IT Infrastructure Library® are registered trade marks of AXELOS Limited, used under permission of AXELOS Limited. All rights reserved.
Seven reasons why you should sit your ITIL Foundation course with Firebrand Training
You'll be ITIL Foundation certified in just 2 days. With us, you'll be ITIL Foundation trained in record time
Our ITIL Foundation course is all-inclusive. A one-off fee covers all course materials, exams, accommodation and meals. No hidden extras
Pass ITIL Foundation first time or train again for free. This is our guarantee. We're confident you'll pass your course first time. But if not, come back within a year and only pay for accommodation, exams and incidental costs
You'll learn more ITIL Foundation. A day with a traditional training provider generally runs from 9am – 5pm, with a nice long break for lunch. With Firebrand Training you'll get at least 12 hours/day quality learning time, with your instructor
You'll learn ITIL Foundation faster. Chances are, you'll have a different learning style to those around you. We combine visual, auditory and tactile styles to deliver the material in a way that ensures you will learn faster and more easily
You'll be studying ITIL Foundation with the best. We've been named in Training Industry's "Top 20 IT Training Companies of the Year" every year since 2010. As well as winning many more awards, we've trained and certified 125,505 professionals, and we're partners with all of the big names in the business
You'll do more than study ITIL Foundation courseware. We use practical exercises to make sure you can apply your new knowledge to the work environment. Our instructors use demonstrations and real-world experience to keep the day interesting and engaging