Overview

Get the knowledge you need to secure cloud infrastructure in just five days. On this accelerated Certified Cloud Security Professional (CCSP) course you'll get the cloud security skills you need to manage cloud environments and purchased cloud services.
As well as learning how to keep sensitive cloud data secure, you'll study:
Architectural concepts and design requirements
Cloud data security
Cloud platform & infrastructure security
Cloud application security
Compliance
Operations
Outdated approaches to the cloud could be opening your organisation to dangerous cyber criminals. Businesses around the world need experienced professionals with advanced skills in cloud security – prove your knowledge with the CCSP certification
Developed by leading information security organisations, the Cloud Security Alliance (CSA) and (ISC)2, this advanced certification proves your cloud security expertise at a global level.
Train at twice the speed on this official CCSP course
Firebrand Training is an Authorised Provider of (ISC)2 training. On this accelerated course, you'll get access to resources only available to authorised providers:
Expert training from authorised (ISC)2 instructors
Official courseware
Official CISSP Practice Exam and Evaluation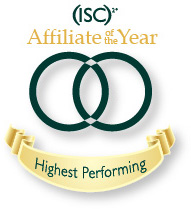 (ISC)2 Highest Performing Affiliate of the Year
Firebrand Training has been named as a "Highest Performing Affiliate of the Year – EMEA" by (ISC)2. Upon announcing the award, W. Hord Tipton, Executive Director of (ISC)2, stated: "This award represents Firebrand as the top performer for (ISC)2...for the EMEA region."
Seven reasons why you should sit your CCSP course with Firebrand Training
You'll be CCSP trained in just 6 days.
Our CCSP course is all-inclusive. A one-off fee covers all course materials, exams, accommodation and meals. No hidden extras
Pass CCSP first time or train again for free. This is our guarantee. We're confident you'll pass your course first time. But if not, come back within a year and only pay for accommodation, exams and incidental costs
You'll learn more CCSP. A day with a traditional training provider generally runs from 9am – 5pm, with a nice long break for lunch. With Firebrand Training you'll get at least 12 hours/day quality learning time, with your instructor
You'll learn CCSP faster. Chances are, you'll have a different learning style to those around you. We combine visual, auditory and tactile styles to deliver the material in a way that ensures you will learn faster and more easily
You'll be studying CCSP with the best. We've been named in Training Industry's "Top 20 IT Training Companies of the Year" every year since 2010. As well as winning many more awards, we've trained and certified 134,561 professionals, and we're partners with all of the big names in the business
You'll do more than study CCSP courseware. We use practical exercises to make sure you can apply your new knowledge to the work environment. Our instructors use demonstrations and real-world experience to keep the day interesting and engaging