Overview
The Cisco Certified Specialist - Enterprise Core certification is offered as 5 days in-classroom modules, and a required 3 days self-study modules. Train with Firebrand, and you'll cover all modules over a total of just 6 days, including sitting Exam 350-401 ENCOR. Get certified with Firebrand at 33% faster than traditional training.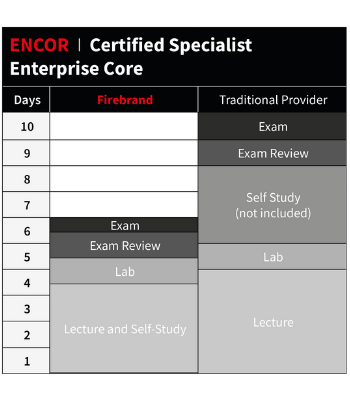 Get the skills and knowledge you need to implement core enterprise network technologies within your business on this accelerated Cisco Certified Specialist - Enterprise Core course.
In just 6 days, you'll learn how to implement virtualisation, network assurance and automation into your business. You'll also discover core enterprise network technologies like dual stack (IPv4 and IPv6) architecture.
During your accelerated course, you'll study:
Working principles of the Cisco SD-Access solution
Configuration and verification of data path virtualisation technologies
Interpretation of REST API response codes and results in payload using Cisco DNA Centre and RESTCONF
You'll get access to official courseware and learn from certified Cisco instructors, as Firebrand is a Cisco Learning Partner. At the end of the course, you'll sit exam 350-401 ENCOR: Implementing and Operating Cisco Enterprise Network Core Technologies v1.0 and achieve the Cisco Certified Specialist - Enterprise Core certification.
Start your Cisco journey in a distraction-free environment and learn at twice the speed through Firebrand's Lecture | Lab | Review methodology.
Your next steps to CCNP or CCIE certifications
Once you have passed the 350-401 ENCOR exam, you'll be ready to sit any of the following Cisco concentration exams:
300-435 ENAUTO: Implementing Automation for Cisco Enterprise Solutions (ENAUI)
Pass any of these exams and you'll achieve your CCNP Enterprise certification.
Or, if you're aiming for the CCIE Enterprise Infrastructure and CCIE Enterprise Wireless certifications, you'll just need to complete the appropriate lab:
CCIE Enterprise Infrastructure (CIE Enterprise Infrastructure v1.0 lab)
CCIE Enterprise Wireless (CCIE Enterprise Wireless v1.0 lab)
Seven reasons why you should sit your course with Firebrand Training
You'll be certified in just 6 days. With us, you'll be trained in record time
Our course is all-inclusive. A one-off fee covers all course materials, exams, accommodation and meals. No hidden extras
Pass first time or train again for free. This is our guarantee. We're confident you'll pass your course first time. But if not, come back within a year and only pay for accommodation, exams and incidental costs
You'll learn more . A day with a traditional training provider generally runs from 9am – 5pm, with a nice long break for lunch. With Firebrand Training you'll get at least 12 hours/day quality learning time, with your instructor
You'll learn faster. Chances are, you'll have a different learning style to those around you. We combine visual, auditory and tactile styles to deliver the material in a way that ensures you will learn faster and more easily
You'll be studying with the best. We've been named in Training Industry's "Top 20 IT Training Companies of the Year" every year since 2010. As well as winning many more awards, we've trained and certified 134,561 professionals, and we're partners with all of the big names in the business
You'll do more than study courseware. We use practical exercises to make sure you can apply your new knowledge to the work environment. Our instructors use demonstrations and real-world experience to keep the day interesting and engaging